Hi Two Twelvers!!!
In celebration of Earth Day I am bringing to you our plans for this Thursday. The Green Team will be catering a vegetarian lunch for all of you from
City Bakery
. City Bakery specializes in organic, local and sustainable foods.
We are having a dessert potluck to go along with the lunch.
Feel free to bring sweets to share (and anything else if you desire). Scroll to the bottom for one idea for an amazing dessert :)
This Thursday April 22, 12:15-1:15pm.
On the menu:
A selection of sandwiches.
Israeli couscous, yellow pepper, cucumber, herbs & ricotta salata
black-eyed peas, red onion, oranges, spinach & orange-chipotle vinaigrette
sweet potatoes, almonds & spinach with curry vinaigrette
sautéed broccoli rabe
cornbread salad with cherry tomatoes & pepperjack cheese
Scroll down for facts from the Sierra Club and some of my favorite vegan recipes:
According to the
Sierra Club
:
To produce one pound of grain-fed beef: We use 16 pounds of wheat and up to 2,500 gallons of water. Cattle production also consumes large amounts of fossil fuels—about a gallon of gasoline per pound of beef—and produces water pollution.
Chicken and pork production also require large amounts of water, grain, and energy and result in significant water and air pollution.
About 260 million acres of forests in the U.S. have been cleared to create cropland for cattle, and many millions more have been cleared, and are cleared every day, in forests around the world.
This doesn't even mention the amount of hormones, antibiotics, and pesticides that we are ingesting along the way. Or make mention of the horrible treatment of caged animals and workers on these farms.
Fact is, we must all start being more conscious about what we eat. And yes, you can still remain a meat-eater. Just start consuming less animal products and more local and organic foods.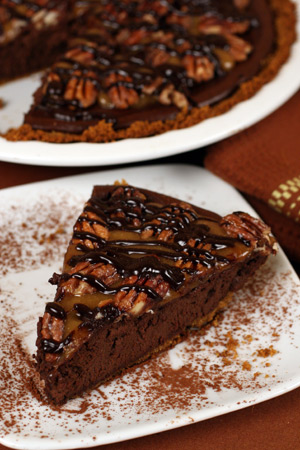 CHOCOLATE SMLOVE PIE:
What would Paula Deen do?
This is a rich yet airy chocolate pie smothered in peanut butter caramel, studded with maple candies pecans and finished off with a chocolate drizzle for good measure. I use a graham cracker crust but a chocolate cookie crust would be nice, too. The pie itself is gluten free so if you have a gluten free crust you celiacs are good to go. I was inspired to make it when I asked myself what
Paula Deen
would bake if she were vegan. If you don't want to go through the trouble of making the toppings, the pie by itself is pretty yummy, too! Top it with soy whip cream if you got it. I'll be serving this and other good stuff at a vegan dinner event for New York Magazine in May. Check back for details!
If you're wondering why it's called Smlove Pie, it's a long and stupid story. The recipe is below. Enjoy!
For the graham cracker crust:
12 graham crackers (or 1 3/4 cups graham cracker crumbs)
1/4 cup canola oil
For the chocolate pie filling:
1 lb silken tofu (NOT the vacuum packed kind), drained
1/4 cup hazelnut liquer (other liquers would work too, like coffee liquer or chocolate liquer, or just use rice milk or soy milk)
2 teaspoons pure vanilla extract
2 Tablespoons arrowroot
12 oz bittersweet chocolate, melted (you don't need directions for melting chocolate, do you?)
For the caramel peanut butter:
(This is basically the same as the recipe in caramel apple bars, but the quantities are tweaked a bit)
1/3 cup natural peanut butter, smooth or chunky, at room temperature
3 tablespoons pute maple syrup
2 tablespoons brown rice syrup
For the maple candied pecans:
1 cup pecans
2 teaspoons canola oil
1/8 teaspoon salt
2 tablespoons maple syrup
For the chocolate drizzle:
4 oz bittersweet chocolate, chopped (or 1/4 cup chocolate chips)
1/4 cup soy or rice milk
Preheat oven to 350F.
Prepare the crust by processing the grahams into fine crumbs. Place them in a bowl and drizzle the oil into them. Use your fingertips or a fork to mix the oil in until all crumbs are moistened.
Spray a 10 inch pie plate with cooking spray. Pour the crumbs into the pie plate and firmly press them to the bottom and sides of plate. Set aside.
Prepare the filling:
First melt your chocolate. Crumble the tofu into a blender or food processor. Add the liquer, vanilla and arrow root and blend until completely smooth. Scrape down the sides to make sure you get everything. Add the chocolate and blend again until completely combined.
Pour the filling into the pie crust and bake for 40 minutes. The center may still be jiggly, but that's fine. Let cool on a counter top for 10 minutes then chill in the fridge for at least 3 hours, the top of the pie should be firm to the touch.
Meanwhile, prepare your candied pecans.
Have ready a large plate, preferably covered in parchment paper. Preheat a heavy bottomed frying pan over medium heat. Add the pecans and stir them very frequently for 3 minutes, until the start to brown. Stir constantly for 2 more minutes, until they are a few shades darker and relatively uniformly toasted. (If a few don't look toasted don't worry about it. That's better than having them burn.) Add the oil ans salt and stir for another minute. Add the maple syrup and stir constantly for about a minute. The maple syrup should get bubbly and dry.
Use a spatula to transfer the pecans to the plate and spread them out as much as you can, it's best if they aren't touching. Place in the fridge until ready to use.
Once the pie has been chilling for at least 3 hours, prepare the peanut butter caramel and chocolate drizzle. Have your pie out and ready to be assembled.
To prepare the caramel:
Stir all the ingredients together in a small sauce pan. Gently heat everything over low heat, stirring constantly with a fork, just until smooth and heated through. It should fall from your fork in ribbons. If it seems stiff, turn the heat off immediately and add a little extra brown rice syrup, until it's fluid again. This happens because different peanut butters have different amounts of moisture.
Pour the peanut butter over the center of the pie, leaving an inch or two at the edges because it spreads. Get your pecans and place them on top of the caramel, pressing them in firmly. You may have to break the pecans apart from each other if they were touching.
Prepare chocolate drizzle:
In a small sauce pan, heat the soy milk to boil. Once boiling, add the chocolate and lower heat. Use a fork to stir it until completely combined. Turn the heat off and let cool for 5 minutes, stirring occasionally.
You can either drizzle the chocolate over the pie with a spoon, but I like to put it in a pastry bag fitted with a wide writing tip and drizzle it that way, in stripes.
Chill for at least 10 minutes before serving.
VEGAN SNOBBY JOES
prep time: 15 minutes | cooking time: 35 minutes start to finish | makes 4 to 6 sammiches
From
Veganomicon
. Every vegan cookbook needs a sloppy joe recipe with the name changed around a bit, right? Well, this is ours. Those sloppy joes we loved as a child but made with lentils. Snobby Joe thinks he's better than all the other Joes because he doesn't have any meat.
Equipment:
Just a pot or two
Ingredients:
1 cup uncooked lentils
4 cups water
1 tablespoon olive oil
1 medium yellow onion, diced small
1 green pepper, diced small
2 cloves garlic, minced
3 Tablespoons chili powder
2 teaspoons oregano
1 teaspoon salt
8 oz can tomato sauce
1/4 cup tomato paste
3 tablespoons maple syrup
1 tablespoon yellow mustard (wet mustard)
4 to 6 kaiser rolls or sesame buns
Directions:
Put the lentils in a small sauce pot and pour in 4 cups water. Cover and bring to a boil. Once boiling, lower heat and simmer for about 20 minutes, until lentils are soft. Drain and set aside.
About 10 minutes before the lentils are done boiling, preheat a medium soup pot over medium heat. Saute the onion and pepper in the oil for about 7 minutes, until softened. Add the garlic and saute a minute more.
Add the cooked lentils, the chili powder, oregano and salt and mix. Add the tomato sauce and tomato paste. Cook for about 10 minutes. Add the maple syrup and mustard and heat through.
Turn the heat off and let sit for about 10 minutes, so that the flavors can meld, or go ahead and eat immediately if you can't wait. I like to serve these open faced, with a scoop of snobby joe on each slice of the bun.
SPINACH MUSHROOM QUICHE
From Peter Berley's
The Modern Vegetarian Kitchen
For the crust:
1/2 cup rolled oats
3 tablespoons sesame seeds
1 cup whole wheat pastry flour or whole spelt flour
1/2 teaspoon baking powder
3/4 teaspoon sea salt
1/2 teaspoon freshly milled black pepper
1/3 cup unflavored soy milk or water
1/3 cup light sesame oil or pure olive oil plus more for brushing the pan
For the filling:
7 tablespoons extra-virgin olive oil
1 cup finely diced onion
10 ounces white button mushrooms, thinly sliced
2 tablespoons dry white wine or water
1 1/2 teaspoons coarse sea salt
3 garlic cloves, slice crosswise into 1/8-inch rounds
10 to 12 fresh basil leaves, chopped
1/2 teaspoon finely chopped fresh thyme leaves
Pinch hot red pepper flakes
1 pound firm tofu, rinsed and patted dry
2 tablespoons freshly squeezed lemon juice
1 tablespoon rice vinegar
2 pounds fresh spinach
Paprika for dusting
1. Preheat the oven to 350.
2. To make the crust, spread the oats and sesame seeds on a baking sheet and toast in the oven for 8 minutes.
3. Transfer the toasted oats and sesame seeds to the bowl of a food processor fitted with a metal blade. Add the flour, baking powder, salt, and pepper, and process until the oats are finely ground.
4. In a medium bowl, whisk together the soy milk and oil. Using a wooden spoon, mix in the dry ingredients to form a dough.
5. Lightly brush a 9-inch or 10-inch tart pan with oil. Put the dough in the tart pan. Place a piece of plastic wrap on the dough and press down evenly, making sure to fill in the fluted sides of the pan. Trim the tart of any excess dough and refrigerate while you make the filling.
6. To make the filling, in a wide saute pan over medium heat, warm 2 tablespoons of the oil. Add the onion and mushroom, raise the heat to high, and saute for 10 to 12 minutes, stirring and shaking the pan until the vegetables are caramelized. Add the wine and scrape up any brown bits from the bottom of the pan with a wooden spoon. Season with 1/2 teaspoon of the salt and continue to cook until dry. Using a rubber spatula, scrape the vegetables into a mixing bowl and set aside.
7. In a small saucepan over medium heat, warm the remaining 5 tablespoons of oil. Add the garlic, basil, thyme, and red pepper flakes. Simmer gently for 3 to 4 minutes or until the garlic is golden. Do not let the garlic brown or it will become bitter. With a rubber spatula, scrape the garlic oil into the bowl of a food processor.
8. Crumble the tofu into the bowl of the food processor. Add the lemon juice, vinegar, and remaining 1 teaspoon of salt and puree until smooth. With a rubber spatula, scrape the puree into the mushroom-onion mixture.
9. Remove and discard the tough stems of the spinach. Wash the leaves in a large bowl with several changes of cold water. Transfer the spinach to a pot and cooke, covered, over high heat for several minutes, just until wilted. Drain in a colander and rinse under cold water to arrest the cooking. Drain well and squeeze dry. Transfer the spinach to a cutting board and chop fine. Add the spinach to the rest of the filling and stir well to combine.
10. Fill the tart shell with the tofu and vegetable mixture and smooth the top with the back of a spoon. Dust with Paprika. Bake for 45 to 50 minutes,until firm.
11.Let the tart cool for 8 to 10 minutes before slicing and serving.
Yield: 4 to 6 servings
-Lindsay